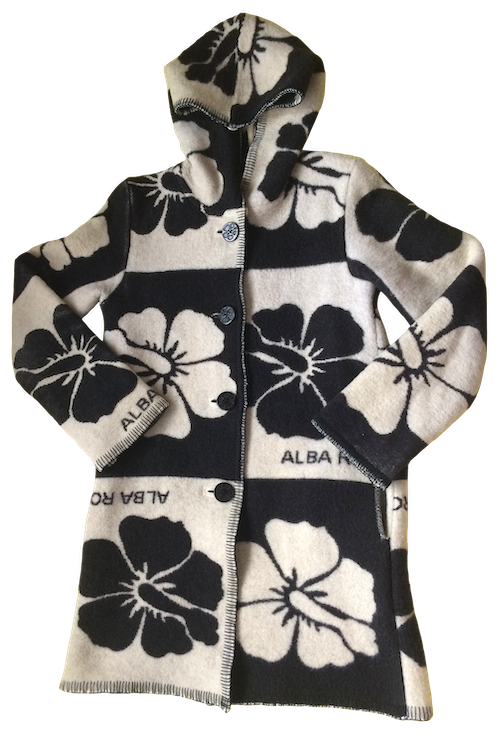 Every gal dreams of one day owning an iconic Alba Rosa coat. I was thrilled to finally have one of my very own, but it arrived to me in a sorry state.
I like to think that, in it's previous life, this coat belonged to the kind of gal who sat on the floor with her gyarusa, drinking coffee and chain smoking cigarettes; that's the only way I can think of that it became so filthy! It must also once have been the long version; the bottom had been cut off, leaving a fraying hem.
If you have read any of my lolita wardrobe item pages, you will know that I adore buying old, decrepit clothes and bringing them back to life, so I was quite excited to work on my Alba coat.
| | |
| --- | --- |
| | First up, I wanted to remove as much of the dirt and staining as I could. I filled up the bathtub with lukewarm water and Oxi Clean stain remover. Within seconds, the bathwater was filthy! Look at all that nicotine, coffee and fake tan! I repeated this process five times before putting it the washing machine at 30C. (And, yes, that is a coloured bath suite. Welcome to the 70s.) |
| | | |
| --- | --- | --- |
| | | Next I zig-zag stitched along the raw bottom hem. I should have done this before I put the coat in the machine, as it frayed even more after that. |
| | | I decided to replace the blanket stitching with black rather than try and colour match to the beige colour of the coat fabric. Most of the staining had come out in the wash, but if you look closely you can still see some marks and discolouration, and I felt new beige thread would draw attention to that. |
| | | Ta da! She lives again! I'm really happy with how it turned out. I think old clothes have a certain romance to them. Giving them a new lease of life brings me joy. Clearly this coat had a full and adventurous past life. I think fondly of it's past owner when I look at the cigarette burn. I hope now I can give it a great second life; without the cigarettes and coffee! |
Made by Mermaidgrey and TroubleInTheMessageCentre