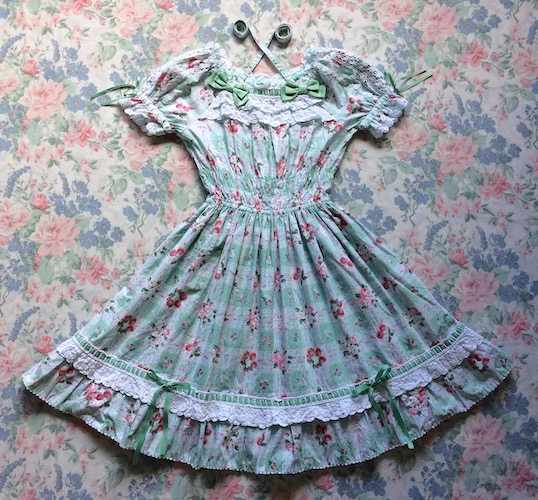 I love restoring old brand, but ink stains? Not something I am used to dealing with. I was doubtful at first that I could do anything with this dress but chop it up and make it into a skirt.
Here is the story of my Sweet Check OP.
It arrived to me covered in ink. Below are photos of the damage. As you can see, in the worst areas the print wasn't even visible through the ink at all. Most of the damage was on the top part of the dress, especially the right sleeve, but there were smaller ink marks on the skirt too.
| | | |
| --- | --- | --- |
| | First I soaked the dress in a bath of oxi clean, then put it in the machine. This didn't make any difference that I could see so I moved on to isopropyl. Using a spray bottle, I began to remove the ink. So much ink came out of the dress, it must have been an entire fountain pen's worth! I sprayed, and soaked until I used the whole bottle, but there was still more ink. So, I used another bottle as well. After that, I put the dress in the washing machine to get rid of the isopropyl. After this, the marks on the ribbon and the smaller marks on the skirt and the lighter marks on the neclline lace had all come out entirely. What remained was the main ink blots on the sleeve, but much faded, and the lace on that sleeve was still slightly blue tinged. I realised that I wasn't going to be able to get the remaining marks out entirely, so I decided to add lots of lace to the sleeves to disguise the stains. | |
| | | |
| | | I'm really pleased that I managed to rescue this dress that I thought was unsalvageable. I chose wide lace strips to make sure the worst of the remaining marks were mostly covered and then smaller daisy lace for the smaller marks. Daisy lace is one of my favourite laces and I also thought it worked well with the theme of the dress. I think I like this dress even more now with the extra lace. I'm glad I didn't give up on this dress and I can't wait to wear it with a big straw hat and take it on a picnic. |
Made by Mermaidgrey and TroubleInTheMessageCentre