27th January 2021
It's Wardrobe Post season! As I have this whole site where I catalogue my wardrobe, there wasn't much point in me doing a wardrobe post as such. Instead I thought I'd take the oppurtunity to appreciate the dream dresses that I have been lucky enough to find.
'Dream dress' is quite I subjective term, I suppose. Some people have one or two dream dresses, others lots. I've also heard the term 'Grail dress' to describe the absolute top tier dream items.
For the sake of this post I'm using 'dream dress' to mean a dress I have loved and longed for for quite some time and gone to some effort to find. If you've read any of the item pages in my wardrobe section, then there's going to be a fair bit of repetition, but there's a looooot of pages on this site, I doubt any one is going to bother reading every single one!
Baby, The Stars Shine Bright Thumbelina OP, 2004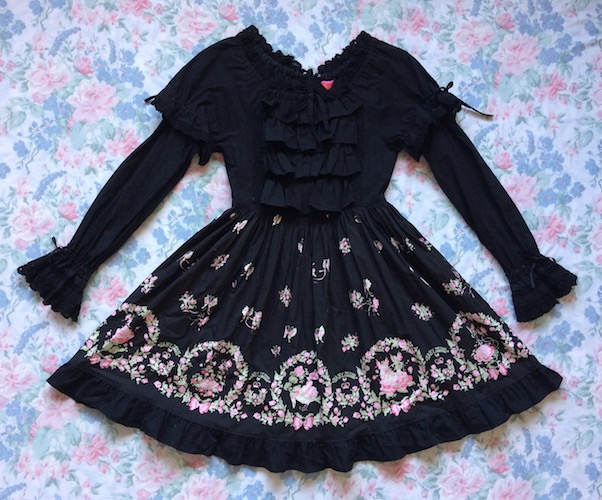 First up is the beautiful Thumbelina OP by Baby. I love early BTSSB prints, they are definately some of my favourites the fashion has to offer.
I found this dress initially on Wunderwelt, but it sold before I could get it. Much later I came across a listing on Mercari with just one absolutely horrible photograph, I really wish I had saved it so you could see how bad it was! It showed only the top half of the dress, none of the print, and that was the only photo in the listing! Luckily, I had spent so long gazing at other photos of this dress that I recognised it immediately. Interestingly enough, the listing also said that they'd bought it off Wunderwelt a while ago, but decided to sell it because it was too big for them. Perhaps it's the exact same one I saw on Wunderwelt!
I'm so glad I took a gamble on that terrible Mercari listing, because it arrived in great condition and I wear it all the time. Definately one of my favourites. I love the chest ruffles on the OP cut especially.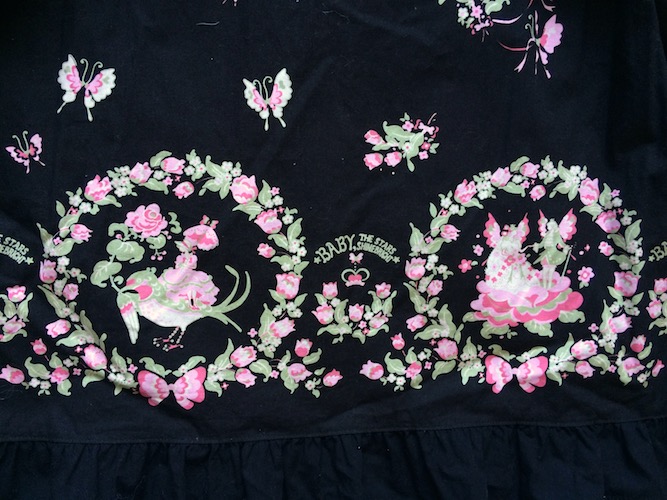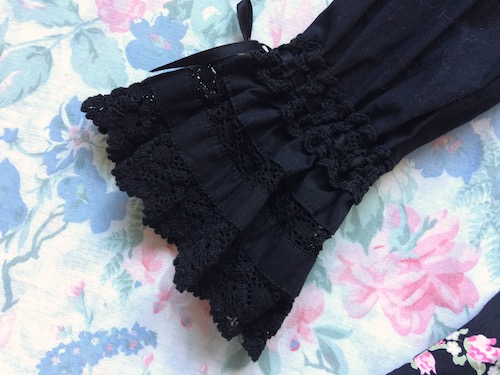 Innocent World Strawberry Field Animals JSK, 2010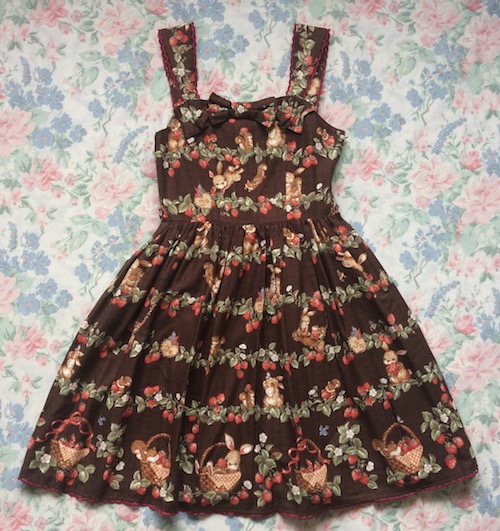 I love the way Innocent World draws their animals. They always look slightly cursed to me, but that makes them all the more endearing.
I'm so thankful to even have this dress in my wardrobe at all. This one is actually a replacement, the first got stolen!
I found this print for sale with the matching head bow on Mercari. Once it shipped, I excitedly checked the tracking every day- I'm sure we all know that feeling! It arrived in the country and then radio silence. I hadn't recieved it and I was worried.
I called Parcelforce to clarify and was eventually put in touch with a very grumpy woman who told me with absolutely no feeling that the van containing my dream dress had been stolen several weeks ago! I was very upset that they hadn't even bothered to contact me and even more upset to think the dress was lost.
Not too long after, I happened across another on Y!Auctions with matching socks. Fortunately this time everything went smoothly. I do sometimes wonder what became of my lost dress and it's headbow though.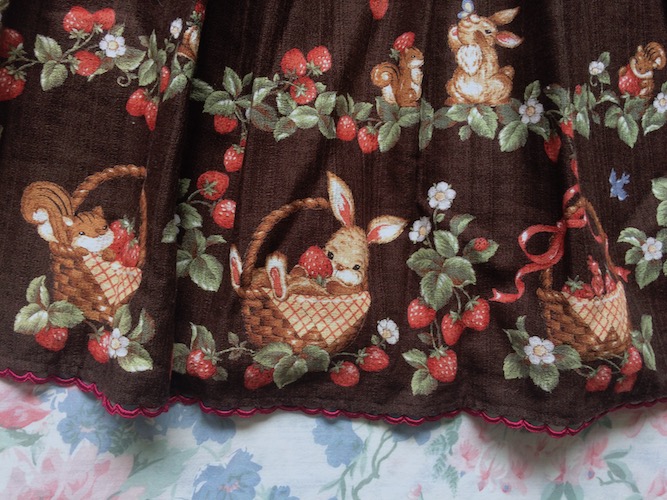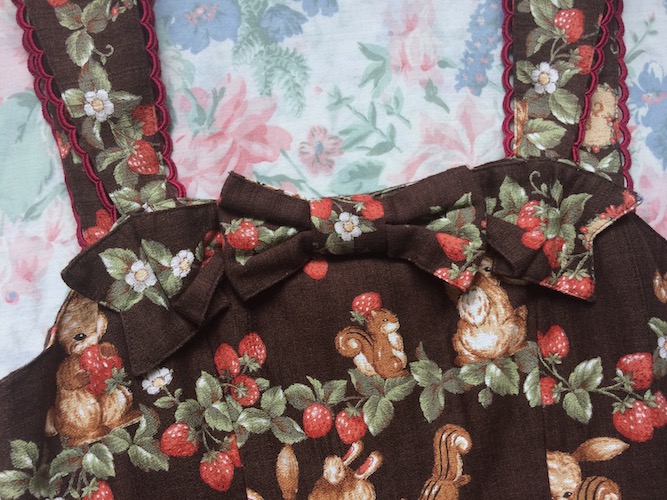 Metamorphose Temps De Fille Cherry Heart Apron And Skirt Set, 2002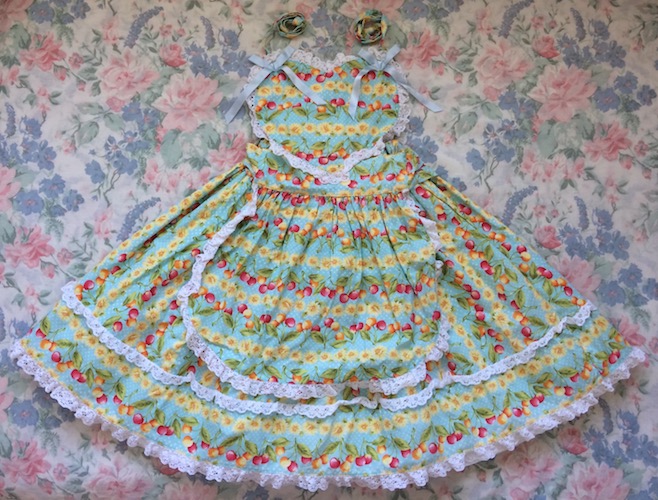 Quite early on in my lolita journey, I bought the OP in this same fabric and it instantly became one of my favourite dresses. When I discovered there was a heart apron set, I was instantly in love! I'd never seen any for sale though, so my hopes weren't high. However, one of my friends found it for sale on Mercari and linked me to it! I couldn't believe my luck. Dream item, right colourway and for a great price!
I've noticed that I don't often reach for this set to wear. I think because it's such a special piece I'm subconciously trying to 'save it for best.' I really want to get out of that habit. I don't believe in saving clothes for a special occasion. Every day can be a special occasion!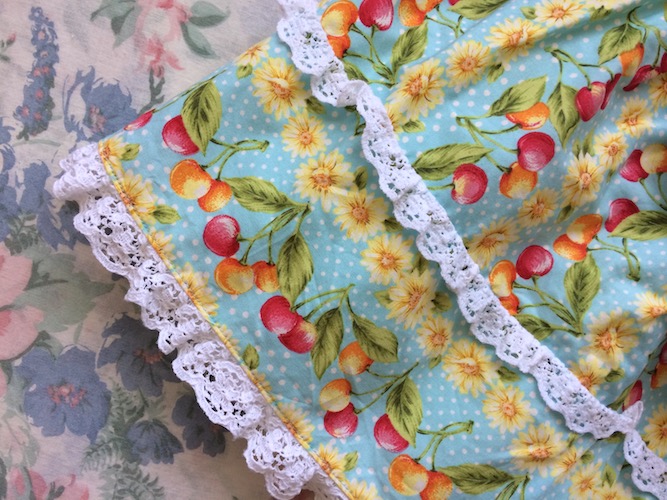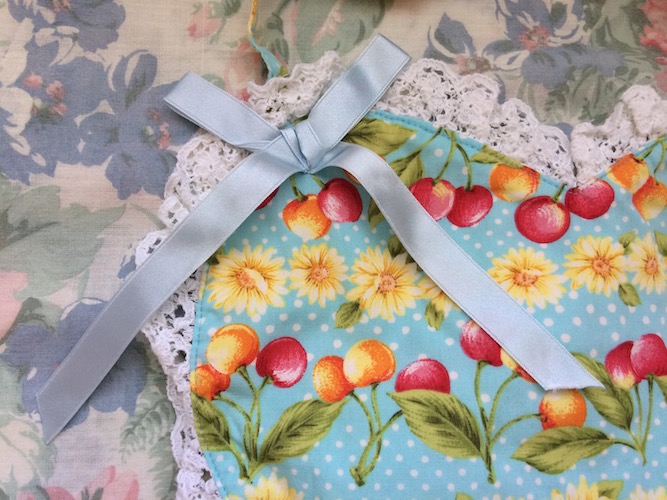 Metamorphose Temps De Fille Long Strawberry JSK, 2003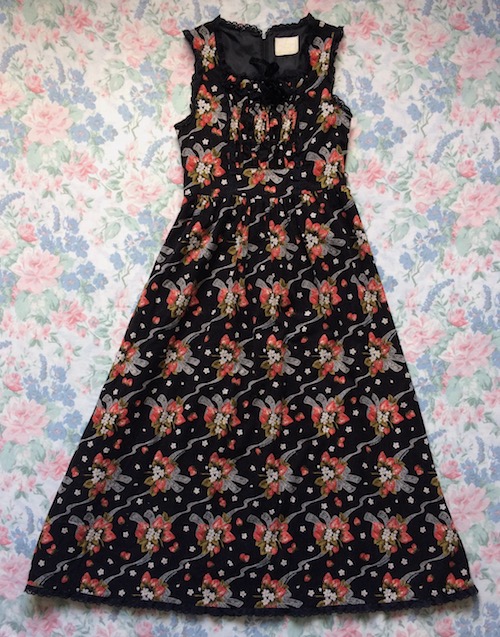 This is probably my absolute dream dress that I own. It's another that I never thought I'd find but was linked to by a friend. It was on Y!Auctions and nobody bid on it apart from me! I felt so lucky!
It's even more beautiful in person that I imagined it would be and it fits like a dream. It's one of my most worn dresses, it's so easy to coord with my wardrobe. I especially love to wear it with my Chocochip Cookie strawberry bonnet.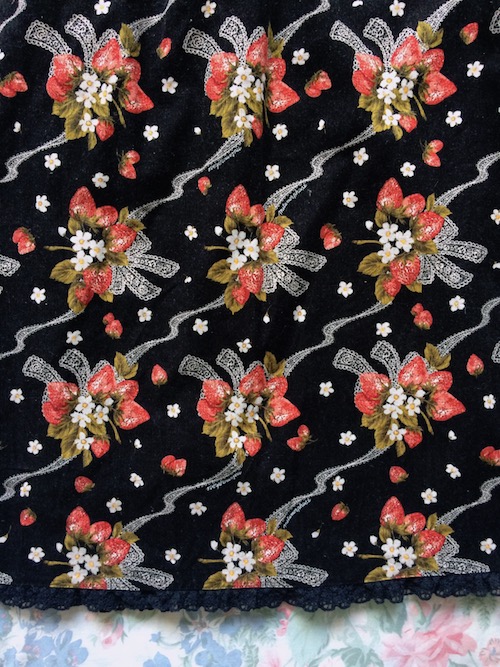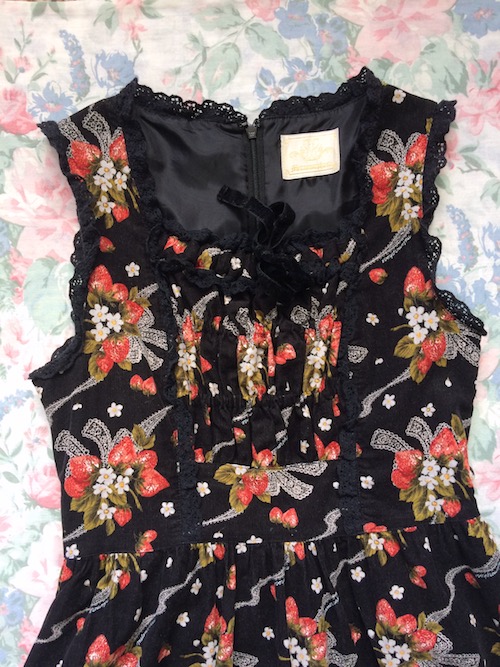 Baby, The Stars Shine Bright Petit Fruit Lace Print JSK, 2009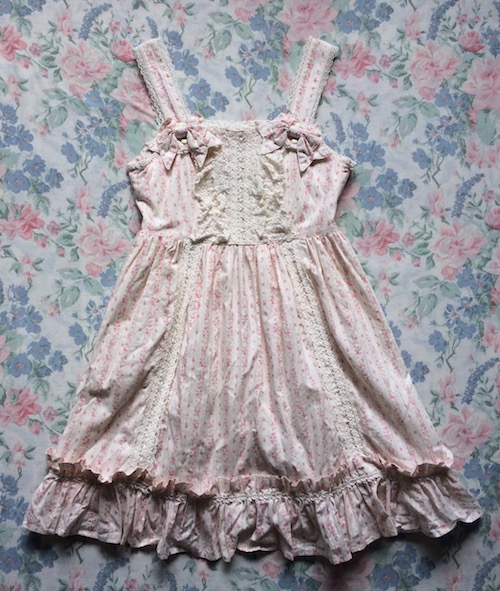 This is the first dream dress I managed to accquire. It was one of the first things I tried to buy from Closet Child, but after checking out, I got an email to say the dress was no longer in stock! After that I searched for it high and low and later that year I found it again, this time in a colourway I actually liked even better! Since then I've worn this dress so many times, it's so versatile.
I feel like this dress really started to take my wardrobe in the direction I wanted, a more old school vibe. Although it's not truly an old school dress, it has a similar feel. At this point in building my wardrobe, I'd finally started to understand my own taste, rather than just making heart eyes at every frilly celestial print that appeared in front of me! I remember wearing it to a meet and fully feeling like myself, more so than any other coord before that.
The only negative about this dress is that the bottom ruffle creases horribly and is a nightmare to iron. I'm sorry for the rather poor photos of it on this site, it deserves better! It's also missing the chain detail from the front, but I don't mind that.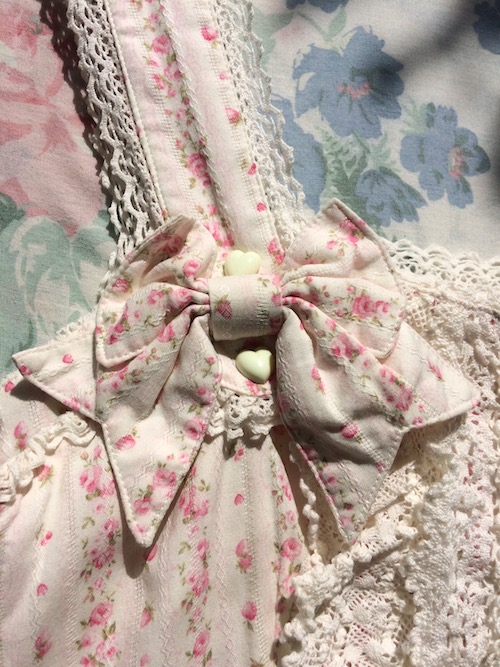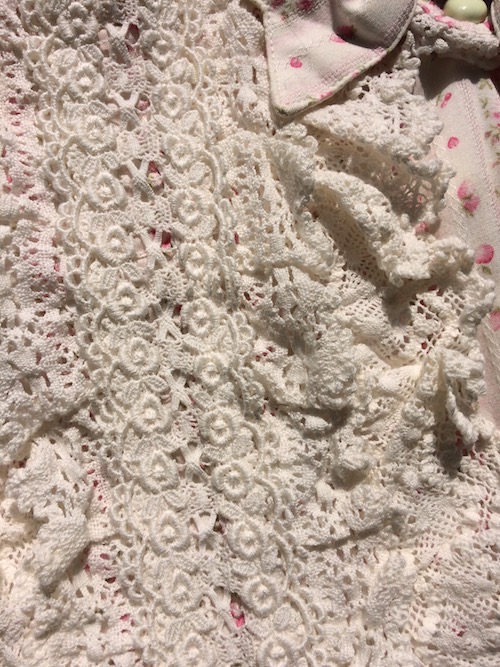 Innocent World To The Ball Bustle JSK, 2009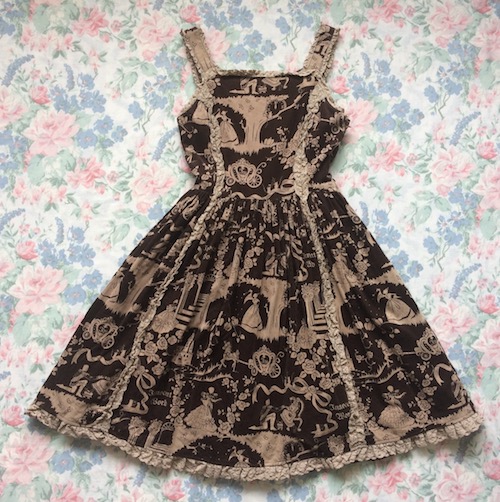 This is a print that I've seen for sale a lot, but always in the collar JSK cut, which isn't to my tastes at all. Every time I would see this print listed I would have a moment of excitement before realising yet again it was the collar JSK! However, it was really worth the search because I eventually found it on lacemarket for only £30!
I love brown in lolita and this dress is no exception. I specifically wanted the brown colourway of this print because I love how the beige lace looks.
My reason for wanting this dress so badly is simple; rats! Ok, so technically they're probably supposed to be mice, but I think they're way too big and rats are my favourite, so to me they are rats. I've had several pet rats over the years and they're such beautiful, loving animals. I used to sing 'A Dream Is A Wish Your Heart Makes' to my last rat, because I felt it an appropriately ratty song, so this dress made me think of those times.
I seem to have forgotten to photograph the amazing bustle this dress has, disgraceful! You'll just have to take my word that it exists. It also has three detachable bows for the front of the bodice, but I forgot to re attatch those for the photograph.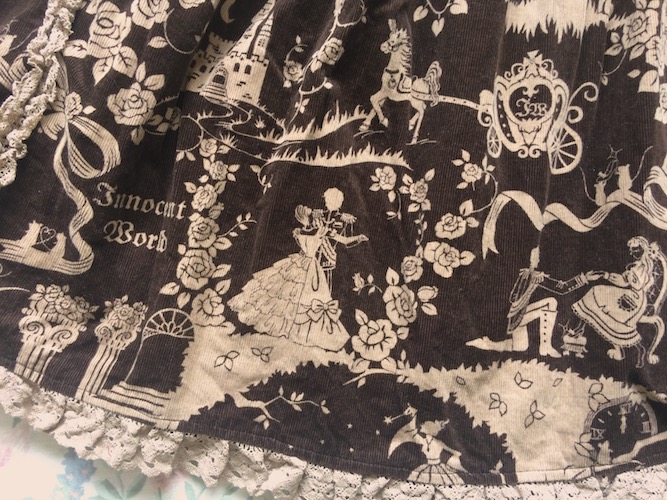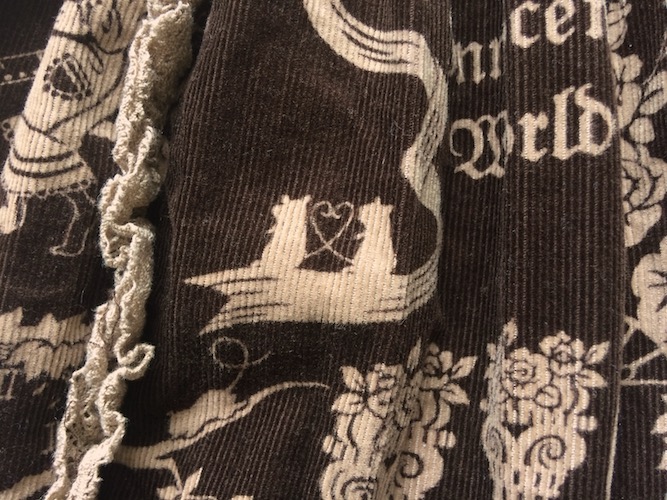 Baby, The Stars Shine Bright Gingham Check OP, 2005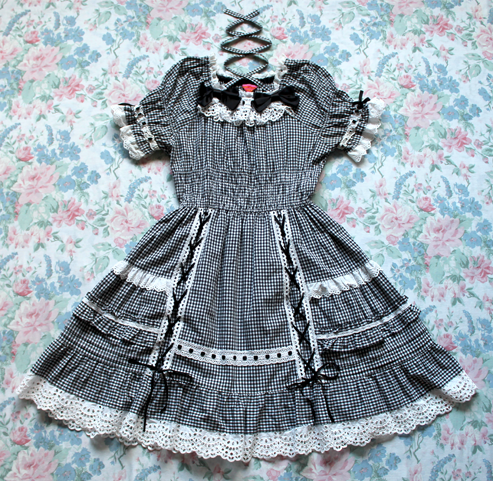 I adore gingham. It's my favourite pattern and makes up a good chunk of my wardrobe, so of course I had to have a gingham dream dress.
When I started in lolita fashion, I joined every single Facebook sales group I thought could be useful, including some other J Fashion ones, like fairy kei, just in case something came up. What a great decision that was! Someone was having a fairy kei wardrobe clearout and wanted to sell a big bundle of clothes. I flicked through to see what was on offer and imagine my surprise when I found this dress sandwiched in between a bunch of fairy kei pastels!
I wasn't interested in the rest of the bundle, so I messaged them about the dress and crossed all my fingers, hoping. They were happy to accept my offer and split the bundle! And the dress came with the matching head bow!
This is another of my most worn dresses. I love wearing it with strawberry themed accessories or with my black heart apron for two totally different looks.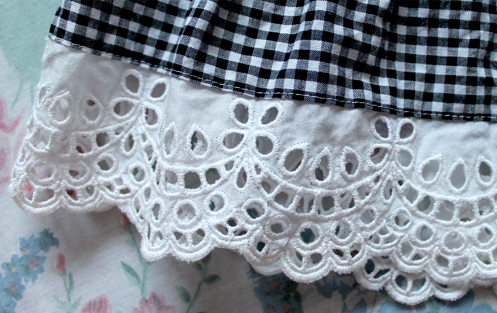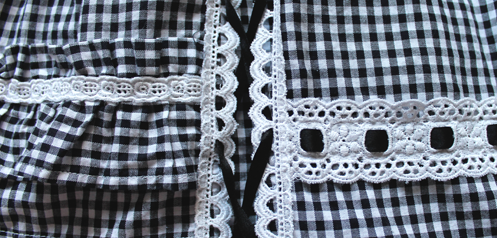 Baby, The Stars Shine Bright Sweet Check Shirring OP, 2006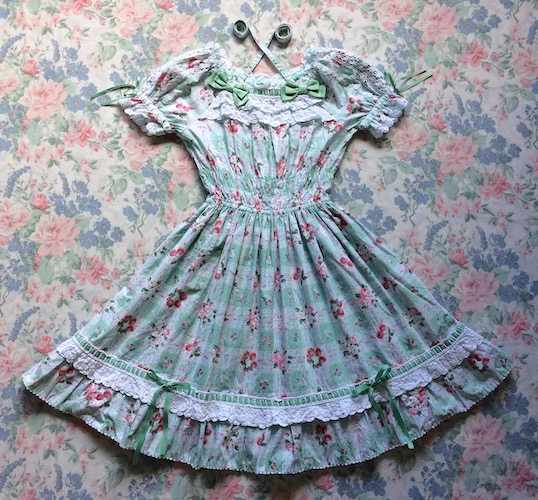 This dress was a big rescue project. It arrived to me covered in ink! I wont say too much here, as I've written a seperate blog post about how I fixed it. If you like, you can read that here.
Country is my favourite subsytlye/theme and I think this dress is just so perfect for country lolita. I can't wait to wear it to a beautiful picnic in the park with a big straw hat.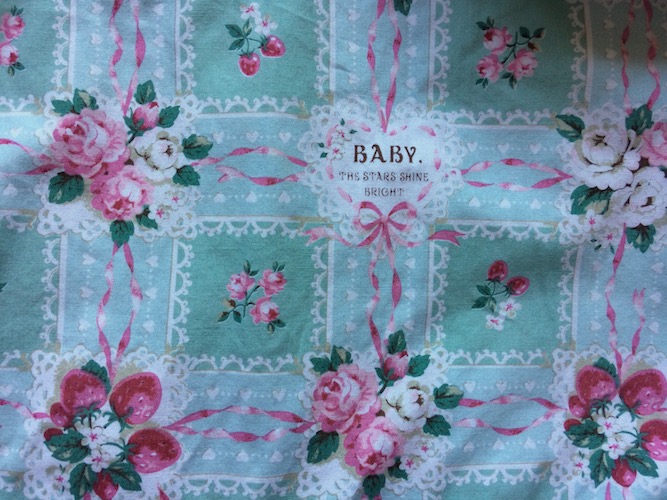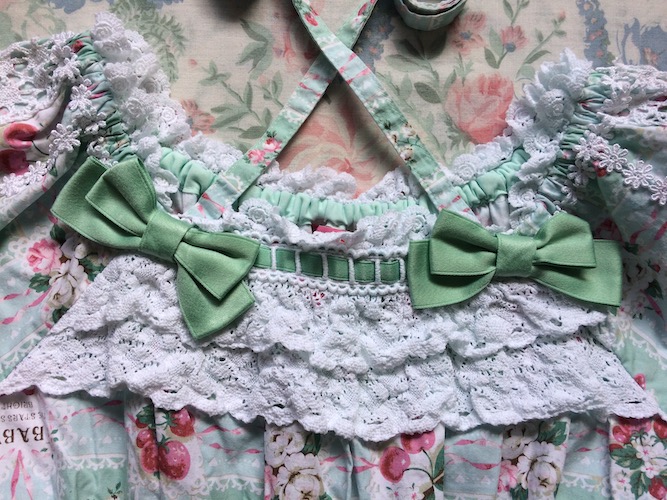 Angelic Pretty Milky-Chan The Fawn Skirt, 2009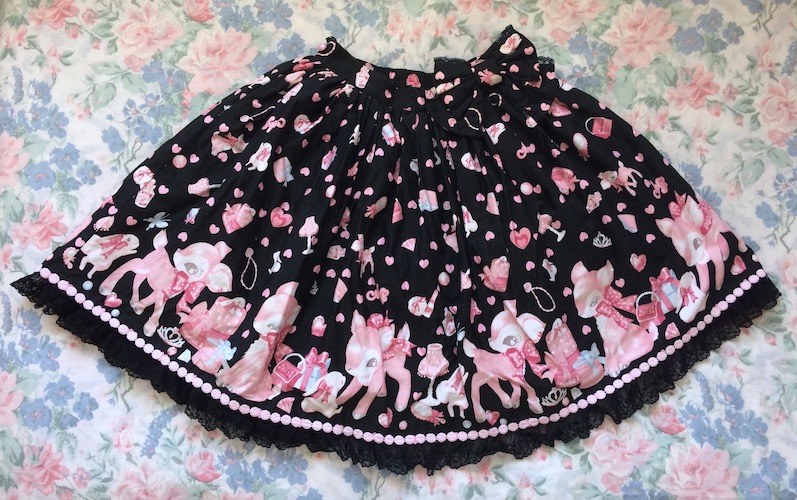 Milky-Chan was one of the first prints I ever saw. A college friend had a recent copy of GLB with her in textiles class and we were looking through it together. I thought the print was so cute! I also distinctly remember saying that the black colourway was for cowards and you should commit to the pink if you wanted to wear it.
Well, call me a hypocrit, but the black ended up being my favourite. I love pink x black in 2010 era sweet. I love how it makes the prints pop and it's so fun to coord!
When I was trying to track this skirt down, I would always find the dresses in black and the skirts in every other colour! I was with a friend of mine lamenting this and decided to check lacemarket. I couldn't believe it! Just as I was complaining it was never for sale, there it was, matching socks and all, for only £60! Complete with waist ties, detachable waist bow and an extra pair of replica socks as a freebie.
I'm so glad I bought this skirt. This print is my favourite of the era and, as I become more comfortable trying 2010 sweet coords, it's so fun to coord. It sat in my wardrobe unworn for quite a while until I finally added extra elastic to the waist band earlier in 2020, so I have so far only worn it to post a letter, where an old man came out of his house to stare at me from his front garden.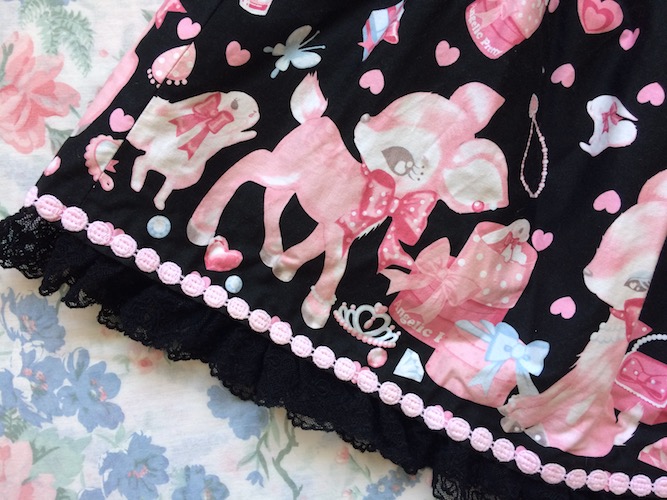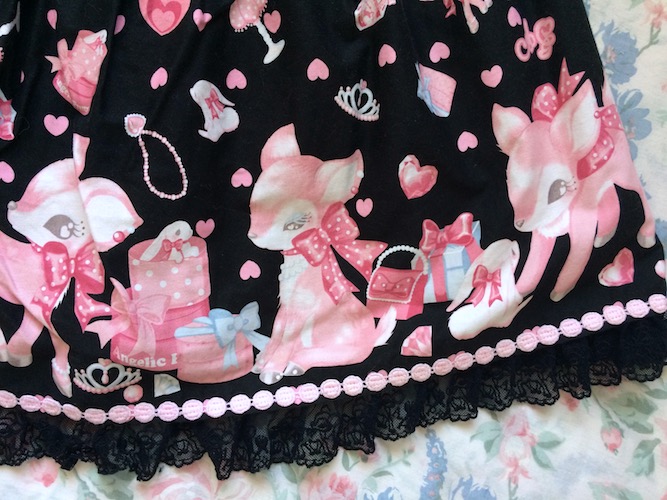 Moi Meme Moitie Iron Gate Long Skirt, 2006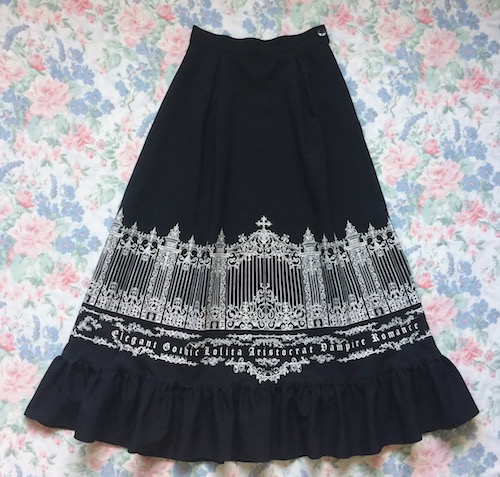 Finally we come to the big boy; Iron Gate! If I never thought I'd find my long strawberry JSK or cherry heart apron, it's nothing compared to how little I believed I'd ever own Iron Gate. I still forget that I have it sometimes!
A member of my comm posted an old photo of themselves wearing the black x blue of this skirt and I commented excitedly, saying I'd never seen it in person before, how the long skirt cut was the best and that it was so cool they owned it, ending with how I hoped to one day find the black x white myself. I was not then expecting them to reply that they actually also owned the black x white, but never wore it because they liked the blue print better, and had been meaning to sell the spare! I was shocked when they offered to sell it to me on a payment plan of whatever I could afford for as long as I needed. I'm still so thankful, or I'd never have been able to get it! When I had finally paid off the whole skirt, they also sent me a Moitie handkerchief as a freebie
Because of the pandemic, I haven't had a chance to wear this to a meet yet, but I have worn it to post a letter to my girlfriend and to buy bread from the corner shop!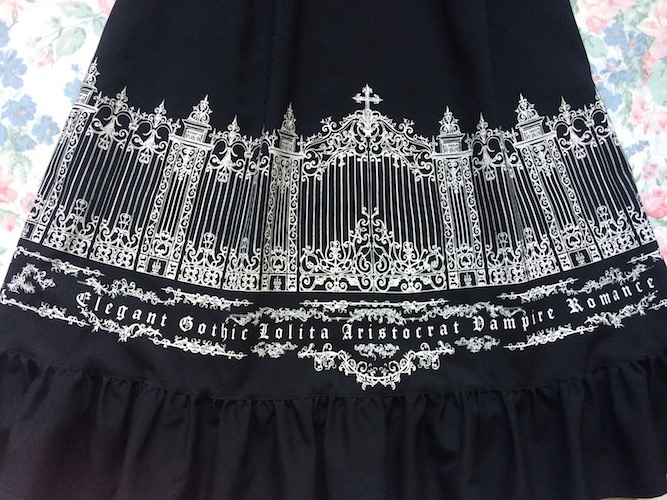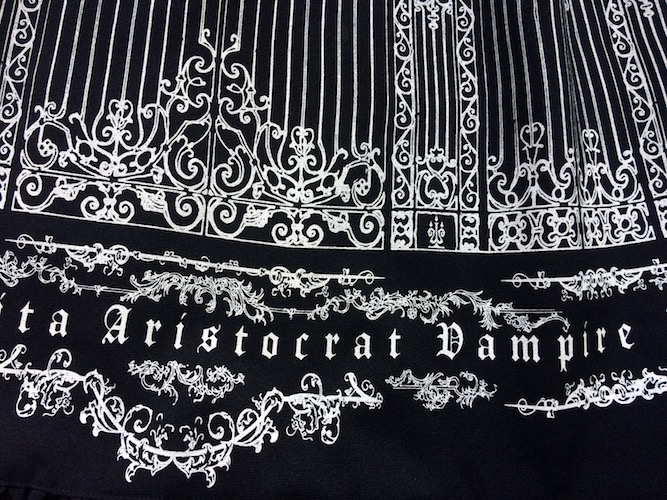 On The Way...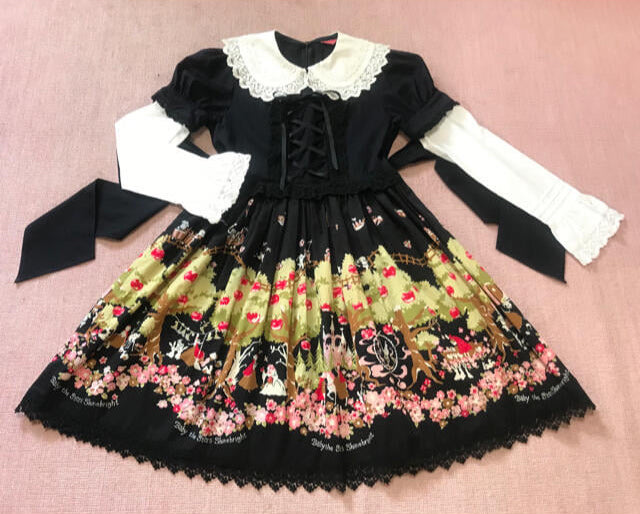 At the end of 2020, I found a literal dream dress, Snow White OP in black! I have had two dreams where I owned and wore this dress and I can't wait to make it a reality! Let's hope this little burst of good luck is a sign of good things to come in 2021.
I hope you enjoyed this peek into my wardrobe. Thank you for stopping by! I hope 2021 brings you dream dresses, health and happiness.
Made by Mermaidgrey and TroubleInTheMessageCentre